Service Spotlight: Hydro Microdermabrasion Facial
Published on July 31, 2015 by Brazelia Lazzari
Microdermabrasion and More
Microdermabrasion is a technique that has been used in dermatology clinics, cosmetic centers, and spas for more than ten years. The non-surgical, non-chemical, and non-invasive skin rejuvenation method uses tiny crystals to effectively exfoliate and buff the dry outer layer of dead skin cells.
This process polishes the skin and boosts collagen production, improving the appearance of dark spots, fine lines, acne scars, wrinkles, and boosts overall skin health.
But… we're taking microdermabrasion to the next level.
Our newest service in The Brazelia Med Spa line-up of skin care and facials is the Hydro Microdermabrasion Facial. The diamond tip microdermabrasion facial is enhanced with vacuum massage and intense hydration to provide a more soothing, gentler exfoliation treatment to rejuvenate your skin.
Normal microdermabrasion, though perfectly safe, can sometimes leave your skin sensitive and dry. It sloughs off all of your dead skin cells, allowing a new layer of skin to regenerate. Hydro microdermabrasion leaves your skin hydrated, clear, and glowing. It is a great treatment with no recovery time that is recommended for all skin types.
AquaFuse Products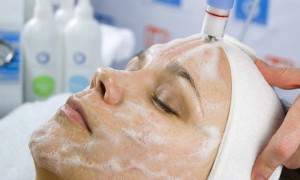 We pair this innovative facial treatment with custom AquaFuse products for ultimate hydration. Depending on your particular skin care needs, these products help us to target hyperpigmentation and brighten the skin, reduce oil to help clear blemishes, or soften dry skin with added hydration.
These products, created by Bio-Therapeutic, were designed with cutting-edge technology to work especially with wet/dry microdermabrasion treatments.
If your skin has been feeling tired, dull, or dry, it's time to give this revolutionary new treatment a try. Call (561) 353-2265 to schedule a complimentary 15-minute consultation with a skin care specialist to discuss your skin needs and the potential benefits of hydro microdermabrasion.
Want to learn more about our skin care options? Visit our facials page or contact us.