All Those Little Hairs Don't Stand a Chance
Published on June 6, 2019 by Brazelia Lazzari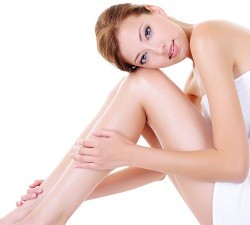 Everyone loves thick, long, and voluminous hair – but not anywhere other than on their head. It is unfortunate that some people are burdened with unwanted hair on their arms, legs, and other parts of the body.
Many people use hair-removal products to get rid of the excess hair. However, the results of these methods are short-lived. Other solutions like waxing and shaving and plucking are painful and take forever. For a quicker and longer-lasting solution, more and more people are turning to laser hair removal.
Laser Hair Removal with the Candela GentleMax Pro
The Candela GentleMax Pro is cutting-edge technology that offers fast and effective laser hair-removal treatments. This dual-wavelength technology offers more power and versatility than any other multi-wavelength device, and it can treat patients of many different skin tones, making it very safe.
Why Laser Hair Removal with Candela?
Laser hair removal is the most sought-after hair-removal treatment because of the benefits that it offers:
• It features advanced technology that can achieve amazing results.
• It offers optimal parameter settings based on patient criteria.
• It utilizes Candela's patented Dynamic Cooling Device to ensure patient comfort and safety. This skin-cooling option delivers consistent bursts of protective cryogen before and after each laser pulse.
• It is quick, comfortable, and effective.
• It can be used to target hair on a number of areas, including the underarms, bikini area, face, toes, fingers, legs, back, arms, and shoulders.
• It can be used safely on all skin types.
• There is no need for the use of gel, and the device is painless with minimal or no discomfort.
• It targets the hair follicles at the root.
Candela GentleMax Pro offers high-speed hair removal without compromising on performance. The larger size of the treatment spot of Candela GentleMax Pro also significantly decreases the treatment's duration without any reduction in efficacy.
How Does the Candela GentleMax Pro Work?
The Candela GentleMax Pro is an award-winning FDA-approved laser hair-removal treatment that can work wonders. It weakens the growth of hair follicles with every session, resulting in smooth and healthy hair-free skin.
During the procedure, a handpiece is passed over the skin in the target areas. The laser beam passes through the skin and is absorbed by the hair follicle residing underneath the skin's surface. The heat generated by the laser destroys hair follicles, impairing the growth of hairs that are in the growth cycle. The destroyed hair follicles are either absorbed and dissolved within the skin or rejected by the body.
Most people require more than one laser hair-removal treatment session to achieve their desired results. This is standard practice with all laser hair-removal systems.
Make Your Appointment Today
Are you ready to try out the Candela GentleMax Pro for yourself? If so, it's time to schedule an appointment for a laser hair-removal consultation at Brazelia Integrative Anti-Aging Center.
At Brazelia, we have helped numerous patients achieve their beauty goals and will be happy to tell you more about the convenient and effective treatments we offer. Contact us today to get started.